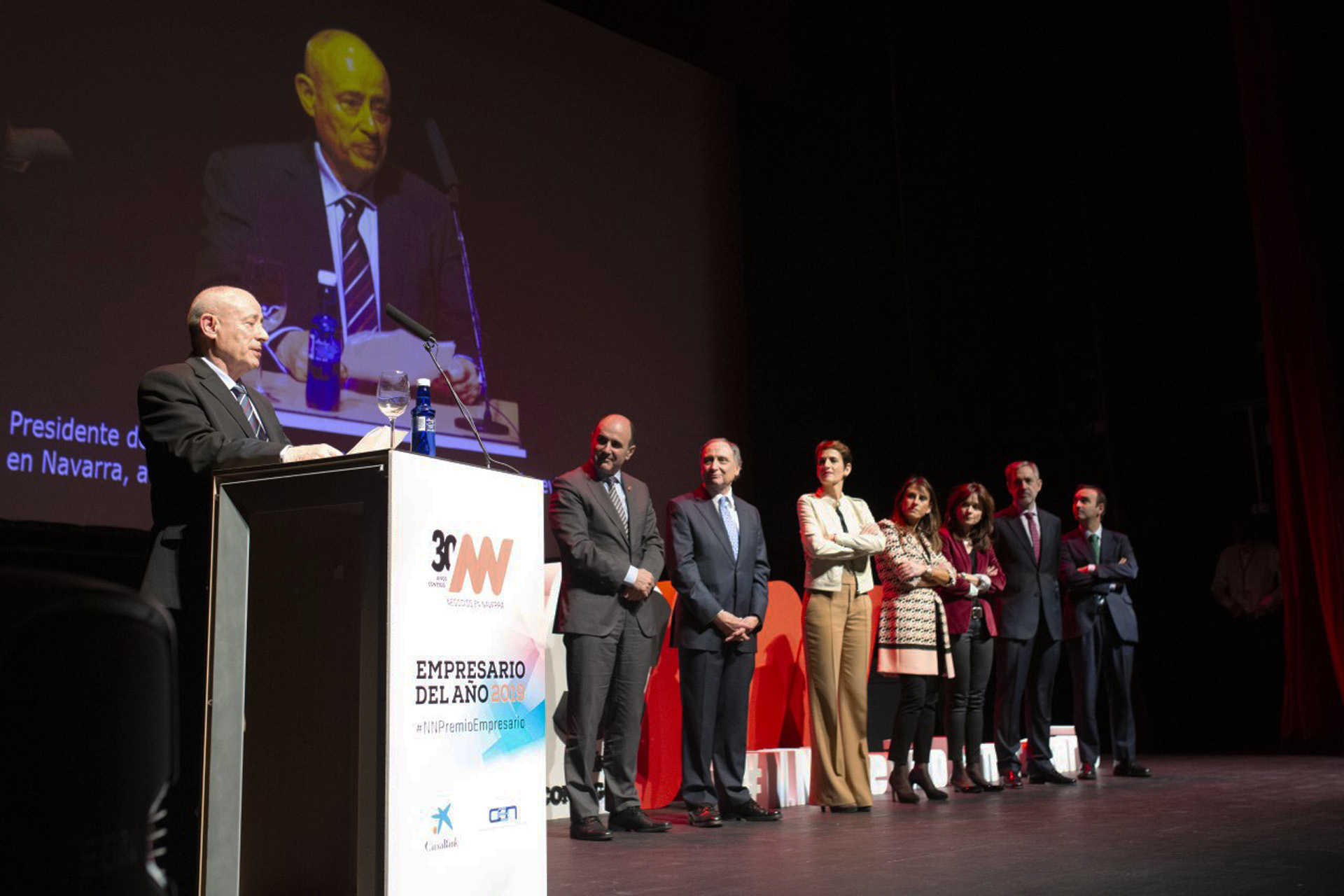 2019 Navarre Business Owner Award: Juan Luis Llonis – CEO of TW Group
One particularly moving moment came when the name of the winner was announced and the over 400 people in attendance – a record number – applauded in recognition of our president's career.
In his speech, Juan Luis Llonis talked about the support from Navarre banks in the group's early days, about Truck&Wheel's partnership with universities and vocational education centers, and about the importance of investing in businesses and startups that contribute added value to the organization, listing such fields as software and e-mobility.
He ended by mentioning the partners and management committee: "Those of you here know that this is not the achievement of one person alone." And he gave thanks for "their dedication to the now more than 2,000 people who are with us, to the executives, to the people who have relocated abroad, far from home, and to our board members and partners."
His nomination, as one of 26 candidates put forward, received unanimous support from the judges. At this edition, the panel was made up of Manu Ayerdi, minister of economic and business development for the Government of Navarre; Isabel Moreno, regional manager for CaixaBank in Navarre; Yolanda Torres, executive vice-president of Grupo Torres; Rubén Elizari, editor of Negocios en Navarra; and Santiago Sala, general manager of Grupo Apex, and previous Business Owner Award winner.
For the first time, anyone was able to put forward candidates for the award via the magazine's website, as well as the usual Navarre organizations, Navarre Industry Association, CEN, Navarre Chamber of Commerce and Industry, Crea Inversión, Deloitte, AJE Navarra, KPMG, SODENA and financial institutions.
The event was held at Baluarte, presented by Rubén Elizari, editor of Negocios en Navarra; preceded by a speech from Antonio Garamendi, president of the CEOE (Spanish Confederation of Employers' Organizations), CEN President José Antonio Sarría and CaixaBank Regional Manager Isabel Moreno. Navarre President María Chivite presented the award. A highly recognized award in Navarre, attracting record numbers this year: over 400 business owners, executives, managers and professionals from the business world.  The Business Owner Award has thus consolidated its position as the major business event held in Navarre.
Below are a few of the links to news stories about the award.
NEGOCIOS EN NAVARRA
DIARIO DE NAVARRA ENTREVISTA
DIARIO DE NAVARRA
NOTICIAS DE NAVARRA
NAVARRA CAPITAL
ELDIARIO.ES
NAVARRA.COM
20MINUTOS
EUROPAPRESS